In the Almaty region an international company will build 2 factories worth 44 billion tenge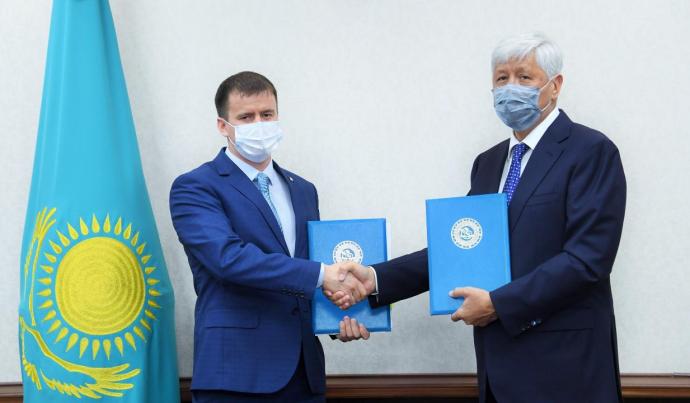 In the Almaty region an international company will build two modern plants for the production of thermal insulation materials. The total volume of investments within the framework of the project, supported by KAZAKH INVEST, will amount about 44 billion tenge. Russian investors of the TechnoNICOL corporation announced this during their visit to the Almaty region.
During the negotiations, the head of the region Amandyk Batalov told in detail about competitive advantages and favorable investment climate of the region.
"We are glad to start cooperation with your company. Attracting investments, opening new industries, creating jobs is one of the most important orders of the Elbasy and the President of the country. In our region, the volume of housing construction is growing every year. Therefore, we need such a modern production using advanced technologies. For our part, we will provide the necessary support," noted A. Batalov.
In turn, Vasily Tkachev head of the strategic business unit Mineral Isolation of the TechnoNICOL company spoke about the corporation's activities and plans for work in Kazakhstan.
"The first plant will produce energy-saving thermal insulation materials from stone wool. This will be an export-oriented production, 20% of products will be exported to China, Kyrgyzstan, Uzbekistan and Tajikistan. At the new plant with a capacity of 1.5 million cubic meters. meters of finished products per year will create 180 jobs. The enterprise will produce building heat and sound insulation for walls, roofs, facades, floors and internal partitions, as well as materials for sandwich panels, technical insulation, fire protection and substrates for agriculture. It is planned to launch the plant in September 2023," Vasily Tkachev said.
Alexey Kasimov the head of the strategic business unit Polymer Isolation of TechnoNICOL, spoke about the specifics of the second plant.
"This will be an enterprise for the production of extruded polystyrene foam - an environmentally friendly heat-insulating material with a capacity of 400 thousand cubic meters. meters of finished products per year, which can be recycled. It is used for insulation of roofs, foundations, floors, in the implementation of various infrastructure projects. It is planned to create 40 more jobs at the new enterprise," A. Kasimov noted.
It should be noted that the plants of the TechnoNICOL company are distinguished by a high degree of automation and special attention to compliance with all environmental standards and requirements. At the same time, the manufactured products make it possible to simplify the construction technology. Another feature is the opening of training centers for enterprise specialists and representatives of contractors.
Following the meeting, a trilateral memorandum of cooperation was signed. The agreement was concluded between the Akimat of the Almaty region, the Trade Representation of the Republic of Kazakhstan in Russia and the TechnoNICOL company.